The
careCreditResponse
ATL COM module
loads
&
analyzes
electronic
responses
to care credit requests
Overview
The careCreditResponse module provides all the necessary tools for loading and thereafter analyzing general invoice XML infosets. These infosets are responses to a previously sent invoices or reminders where the topmost object reference defines target request/response.
Architectural blueprint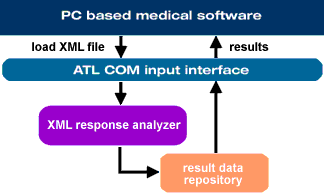 Please also have a look at the Important Documents that serves as a jump start and might effect the ease of the implementation. Furthermore, some external documents such as XML test files, the schema documentation in CHM format and the XSD schema itself are downloadable in this data container.
Keyfacts at a glance
Version 450
Last update:
Monday, 8 July 2019 - 09:43:19
Module version/date:
4.50.001
3 Jun 2019
Interface version/date:
4.50
6 May 2019
Covering:
XML schema 4.50 from 06. May 2019
API browser
The online documentation browser allows you to browse, view, and check the various interfaces, methods und properties of the Dll. Please note, that this documentation is included in the full installer in form of a .CHM file.
| Date | Time | API version |
| --- | --- | --- |
| 08.07.19 | 09:43:19 | V4.50: View API browser |
| 08.07.19 | 09:43:19 | V4.50: Download API browser .CHM file |
Download area for careCreditResponse related files
Installation directory:
INSTALLDIR=full_path_to_install_dir

Silent install:
careCreditResponseInstaller.exe /s /v"/quiet INSTALLDIR=\"c:\my test\" "

Silent uninstall:
careCreditResponseInstaller.exe /s /v"/quiet REMOVE=ALL INSTALLDIR=\"c:\my test\" "
Date
Version
Description
20.06.19
4.50.001
CareCreditResponseManager installer - initial build
Download CareCreditResponseManager installer ( 17.6 MB)
Revision history

Initial version V4.50

Actions for developers: implement Actions for end users: install

show older builds ...